home > A Guide to the Sake Brands of Kyoto Fushimi > Housyuku
A Guide to the Sake Brands
of Kyoto Fushimi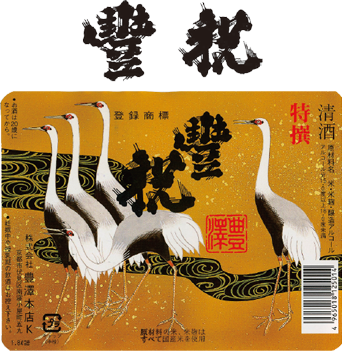 Housyuku
We aim to make everybody smile with our sake.
Toyosawa Honten Co., Ltd. 59 Minami Nekoya-cho, Fushimi-ku, Kyoto City
612-8379
Tel: 075-601-5341 Fax: 075-622-5620
http://homepage2.nifty.com/housyuku/
Our main brand Housyuku (literally "prosperity & celebration") was named after the haiku poem composed by the founder, "The rice has ripened, which will make our country prosperous. Let's celebrate with sake."
Our company was established in Osaka in 1868, at the end of Edo period. We began our business to trade sake, but soon started to brew sake ourselves to provide customers with our own products.
We then moved to Fushimi in Kyoto to get better water for sake and have been running our business there up to today. We use natural spring water taken from one of the seven famous wells in Fushimi, Shiragiku-sui (literally "white chrysanthemum water") to brew our sake. Our sake is dry and light but also has a mild taste, which is one of the basic characteristics of the sake made in Kyoto.