home > A Guide to the Sake Brands of Kyoto Fushimi > Momo no Shizuku
A Guide to the Sake Brands
of Kyoto Fushimi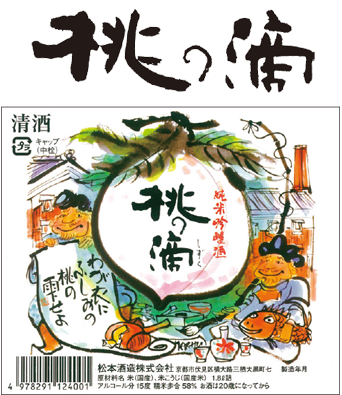 Momo no Shizuku
Sake is a proud part of Japan's culture.
Our mission is to introduce Junmai-shu to the world.

Matsumoto Sake Brewing Co., Ltd. 7 Yokooji Misudaikoku-cho, Fushimi-ku, Kyoto City
612-8205
Tel: 075-611-1238 Fax: 075-611-1240
http://www.momonoshizuku.com/
The Sawaya sake brewery was founded in 1791 by Matsumoto Jibee I in Higashiyama, Kyoto. It added another location in Fushimi in 1923. Drawn to the Fushimi location by its clear spring water, the company began producing a Junmai Ginjo sake called Momo no Shizuku in 1983. The sake has a deep, satisfying flavor that has been well received. The company is aware of the importance of Japanese sake as a part of the national culture, and continues to produce excellent Kyoto sake to this day.