home > A Guide to the Sake Brands of Kyoto Fushimi > Tomio
A Guide to the Sake Brands
of Kyoto Fushimi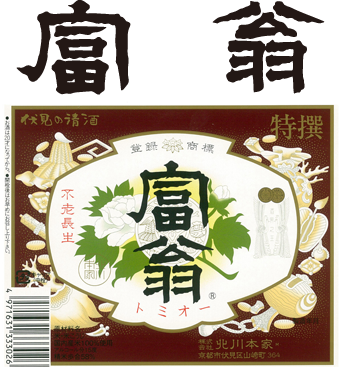 Tomio
Over 350 years of sake brewing based on the principle of "Sake to enrich one's spirit"
Kitagawahonke Co., Ltd. 370-6 Murakami-cho, Fushimi-ku, Kyoto City
612-8369
Tel: 075-611-1271 Fax: 075-611-1273
http://www.tomio-sake.co.jp/
Established in the Edo Period, Kitagawahonke has a recorded history that stretches back to 1657. The sake brewing at Kitagawahonke was started by Funaya Shirobee, who ran lodgings for river passengers on the Uji-gawa River near the Kangetsukyo Bridge. Funayano-Sake became a well-known brand name as Shirobee's product was enjoyed by many people in both Osaka and Edo.
Kitagawahonke produces a sake called Tomio, a name taken from and inspired by the Nine Chinese Classic Texts. The name signifies "those who are rich in spirit will enjoy a long, happy life." Since 1983, when the company first put Tomio forward at the Annual Japan Sake Awards, their flagship sake has won 15 gold awards.